25 Feb

Fifty Seven Waterberg Big Five Game Lodge

Spot the Big Five at The Fifty Seven Waterberg Game Lodge

If you are looking for 5-star luxury in the heart of the Welgevonden Game Reserve, then you have come to the right place. Our game lodge is a superb pick for a romantic weekend away or a family mini-break where you can escape the concrete jungle and revel in the natural oasis that our accommodation offers. If you want to enjoy the tranquillity and peace of Fifty Seven Waterberg – and delight in spotting the Big Five – then it is time to book your getaway today.

Welgevonden Game Reserve forms part of the Waterberg Biosphere Reserve, and this incredible site was officially declared as a World Heritage site by UNESCO in 2001. It boasts a wide selection of indigenous fauna and flora, and is home to the Big Five. Your chances of spotting these five formidable creatures, namely the leopard, lion, rhinoceros, Cape buffalo, and elephant, are high, and this is a brilliant destination for anyone with a passion for wildlife. The area also has over 50 other species of mammals and more than 300 diverse species of bird. It is thus an excellent spot for avid bird watchers and nature-lovers alike. Located a mere 3-hour drive from Pretoria and Johannesburg, our game lodge is the ideal place to recharge after a long week. You can escape the humdrum of the city, without having to catch a flight or travel great distances.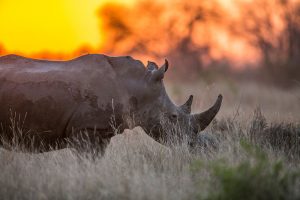 Why Choose Us For Your Big Five Getaway?
Our ten spacious suites bring style and luxury to the fore, and each unit offers an excellent view of the bush. Rooms are furnished with luxury fittings, a work desk, a king-sized bed, and a private patio area for entertaining purposes. Guests can choose to relax in their own private space or spend time in the main lodge. When not out on a bush drive or snapping pictures of the Big Five, guests are welcome to enjoy our various facilities or relax by the pool. Our lodge offers a perfect combination of relaxation and adventure, and is the perfect pick-me-up after a long week. Our restaurant also takes fine dining to the next level, so when you are not exploring all that the reserve has to offer or star-spotting next to the warm glow of the fire, you can tantalize those taste buds.
If you are ready for a Big Five adventure but want to explore the bush with a touch of luxury, then give us a call today. Our lodge is the perfect place to build everlasting memories. And what better place to do it than the Welgevonden Game Reserve?