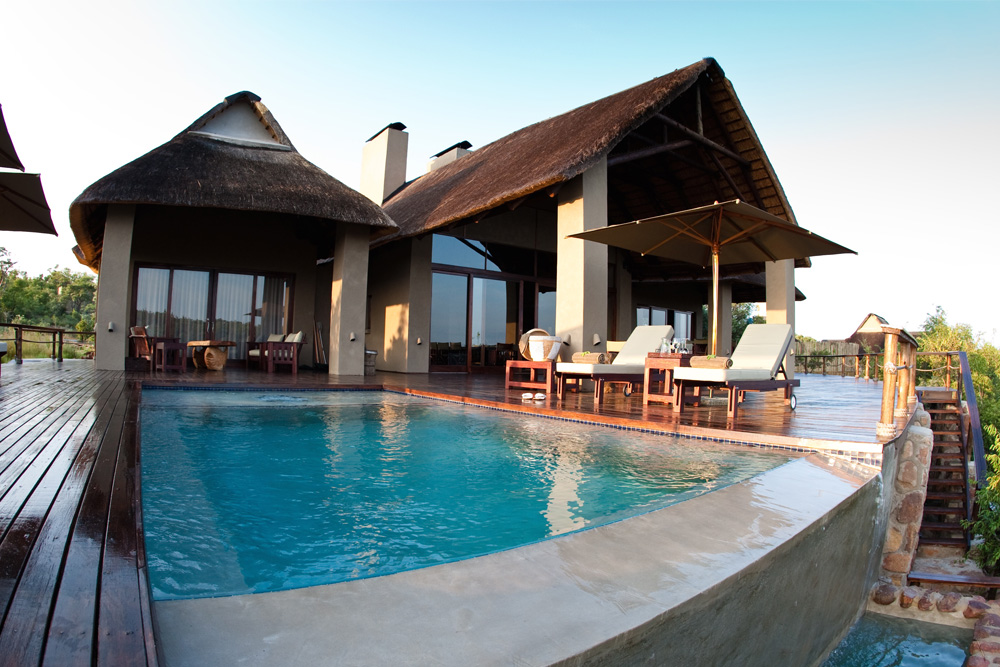 28 Nov

Welgevonden Lodge Accommodation

Welcoming Welgevonden Luxury Lodge Accommodation

When there is mention of lodge accommodation in the South African bushveld, the world-renowned Kruger National Park, and the immediate area which surrounds it, may spring to mind initially, because the Kruger is one of the biggest and longest established game reserves on the African continent.

Private lodge accommodation was only a considerably later type of accommodation in this famous park and its adjacent territory. Here, private concessions were granted to enable the reserve and other operators to offer more upmarket lodgings to local and international visitors who sought superior accommodation standards. Today, the major part of the Kruger remains open to the public at large, as do the "ordinary" rest camp facilities, which are not of five-star standards.

An Exclusive Addition

Welgevonden Game Reserve is an exclusive addition to what has become a select collection of private wildlife reserves in South Africa, offering exceptional, high-end game lodge accommodation to its discerning guests, people who want a close-up and personal wildlife experience, whilst enjoying superior lodge facilities.

Welgevonden's Primary Pioneer

Much like the legendary Kruger figures, the pioneer and principal founder of Welgevonden Game Reserve, Pienkes du Plessis, was also a visionary man, who sought to restore the fauna and flora of his part of the Limpopo region to its former, pristine and ecologically sound state. This he accomplished, by way of an extensive project, which started in the 1980s and was completed in 1993, in collaboration with several of his like-minded neighbours.

Dividing fences were removed. By combining his farm, Welgevonden, with those of his neighbouring farmers, Welgevonden's private game reserve, in excess of 35 000 hectares in extent, was created. All presence and signs of human habitation were removed, allowing the land and its wildlife to return to their former glory, naturally and in accordance with Mother Nature's balanced scheme of things.

Luxury Lodge Accommodation at Welgevonden

Today, Welgevonden private game reserve is home to a few luxury lodges, each of which hosts limited numbers of guests for various practical and functional reasons. Our five-star game lodge, Fifty Seven Waterberg, is one such luxurious establishment, accommodating no more than ten persons in five private, exceptionally spacious suites (three luxury and two honeymoon suites), at any given time.
All game drives are undertaken on our open game viewing lodge vehicle, accompanied by a knowledgeable Fifty Seven guide and ranger, maximising the guests' game lodge experience of Welgevonden's wildlife.
There are never hordes of vehicles or people driving around the reserve and viewing animals, disturbing their natural behaviour, inadvertently damaging the pristine bushveld environment, or spoiling an otherwise unique opportunity to see wild animals at close quarters.
We are able to provide our guests with outstanding personal service, amenities, and facilities, without spreading our highly trained, friendly, and helpful human resources too thinly.
Our incredibly high standards of hospitality and accommodation can be maintained seamlessly, which is a fundamental reason why our guests choose to reserve their lodge accommodation at Fifty Seven Waterberg in Welgevonden.
As multi-award winners, we are particularly proud of one of our lodge's latest awards too,– Best Safari Lodge in Africa, which we won at the Haute Grandeur Global Awards event. Is it not time that we extended a warm Welgevonden welcome to you too, at Fifty Seven Waterberg?