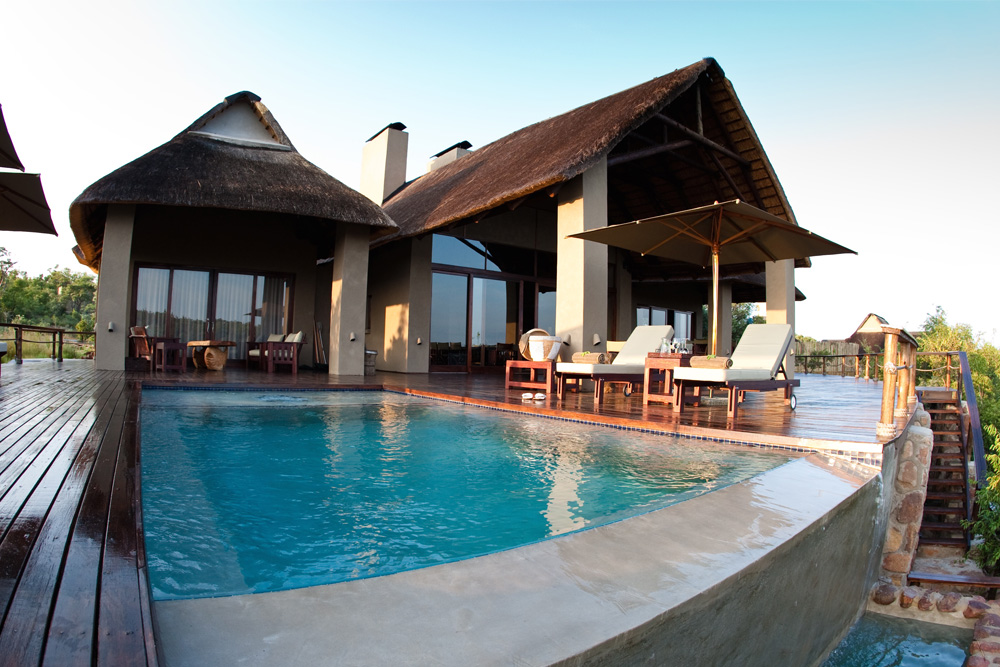 16 May

Luxury Bushveld Lodge

A Luxury Lodge in the Heart of the Limpopo Bushveld

The lure of the bushveld is hard to resist and, over the years, it has become the destination of choice for many South Africans, and a visit to a game lodge has become pretty much mandatory for the average overseas visitor. Luxury, however, is not a quality that is encountered too often in the nation's wilderness areas and so, a tent or a simple wooden A-frame structure, a space to set up a braai and perhaps some basic ablution facilities will be what many visitors are required to settle for.

The country boasts numerous game reserves and none is better known internationally than the Kruger National Park. Not too far from this iconic site is another, much smaller reserve which, despite its size, is home to a vast wildlife population, including the much sought-after Big Five. Located in the province of Limpopo, it is known as the Welgevonden Game Reserve. Part of the Waterberg Biosphere declared by UNESCO in 2001, it covers an area of some 35 000 hectares.

Nestled in its heart, visiting wildlife lovers will find not only 50 species of mammals and more than 300 types of birds to wonder at, but also a luxury bushveld lodge. As the Dutch name given to the game park implies, those who may chance upon our hostelry known as Fifty Seven Waterberg will definitely regard it as "well found". When staying on our premises, they will be able to enjoy comfort equal to those offered by any hotel in the land amid surroundings of beauty and tranquillity with which no city hotel could hope to compete.

To ensure that the tranquil atmosphere remains unspoiled by the sounds of neighbouring guests, Fifty Seven Waterberg offers just five well-appointed and spacious suites. The suites are sufficiently separated from one another so as to guarantee both privacy and an unobstructed view of the surrounding countryside, while the interior décor, fixtures and fittings of each are all of the highest quality.

Despite the undisguised luxury of the accommodation, most of our quests are quick to confirm that a stay at our exclusive bushveld lodge is surprisingly affordable, even for those who opt for the full-board option. In addition, those who may wish to cut their costs even further are free to book a private, self-catering stay – knowing that all of the facilities of the establishment will remain open to them.

This jewel in the heart of South Africa's northernmost province can be reached from Johannesburg or Pretoria in three hours or less, which makes it a perfect choice for a weekend getaway. Where better for a romantic retreat than our luxury bushveld lodge?