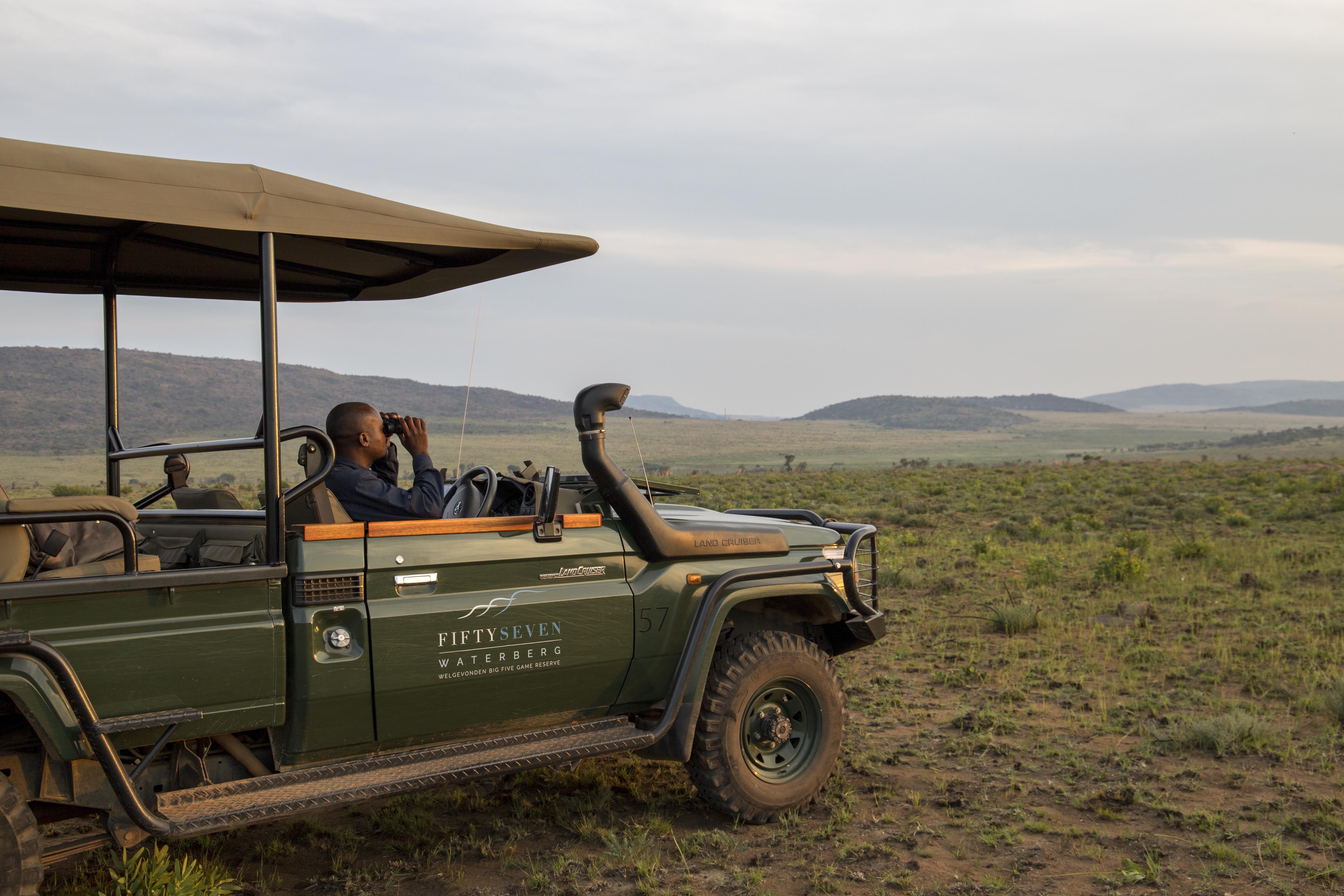 26 Feb

Bountiful Big 5 Game Species in Welgevonden

Bountiful Big 5 Game Species in Welgevonden

The iconic Big 5 game species have become so well known all over the world that most lovers of African bushveld safaris are probably able to list these animals instantly – the fiercely territorial and powerful African Lion, the seemingly cunning Cape Buffalo, much feared by many a big game hunter of old, the strong, silent and solitary African Leopard, the unpredictable, poor-sighted Rhino and the staunchly matriarchal African Elephant.

At Fifty Seven Waterberg, our exclusive private Big 5 game lodge, situated in the heart of the privately owned Welgevonden Game Reserve, we are fortunate to have bountiful numbers of the Big 5, more than 50 mammal species and more than 300 beautiful bird species, all roaming (and flying) freely in their natural, indigenous habitat.

Veritable Wildlife Paradise

Welgevonden is a veritable wildlife paradise. Best of all – for human residents and visitors to the area – Welgevonden Game Reserve is perfectly located to make it the ideal place for the establishment of game lodges that have it all, in abundance, lodges like our luxurious, 5-star Fifty Seven Waterberg.

In addition to being prime Big 5 territory, Welgevonden is included in the Waterberg Biosphere Reserve's terrain, a UNESCO World Heritage site. The name "Welgevonden" is derived from the same Dutch word that means "well found", an apt descriptive name for the 35 000-hectare game reserve that is home to so many magnificent wild creatures and a select few human visitors.

Limited Lodge Guest Numbers

 At Fifty Seven Waterberg, we have deliberately kept the number of our luxurious guest suites restricted to 5 only. This means that our game lodge only accommodates a maximum of 10 guests at any one time. Thereby, we are able to maintain the intimate atmosphere and exclusivity of the lodge, as well as the guests' uniquely exclusive wildlife and Big 5 game experiences, plus the top standards of our dedicated personal service.

Whilst our guests are welcome to make free use of all the communal facilities offered by and accommodated at the main lodge buildings, there are also able to feel as though they are our sole and only guests when relaxing in the privacy of their luxuriously appointed, spacious guest suite. Each 80 square metre (plus) guest room, complete with its en-suite bathroom facilities, was established as a stand-alone unit, quite separate from its neighbour.

Because Welgevonden is so incredibly rich in wildlife, we decided to name almost all of our guest suites after typically African antelope species, rather than the Big 5. Guests are accommodated in the Springbok, Gemsbok, Zebra, Rooihartbees or Nguni suites.

The first two are ideal honeymoon suites; the Nguni room refers to a hardy, indigenous cattle breed, as well as being the collective name of several African tribes, primarily the Xhosa, Zulu, Swazi and Ndebele peoples of Southern Africa.

Site 57 of Welgevonden Game Reserve or Fifty Seven Waterberg, our 5 star, Big 5 game lodge, are multi-award winners, amongst them a stunning 9.6 score in Booking.com's Guest Review Awards, Lilizela's Provincial Winner in the Accommodation category, a TripAdvisor Certificate of Excellence, travelmyth's Top 5 Accommodations in Welgevonden Game Reserve, GoHotels.com's Outstanding Service Award and prestigiously featured in National Geographic's Traveller Africa Collection – all accrued in one year, 2017, and great recommendations for your next Big 5 game lodge experience.