25 Feb

Luxury Private Game Lodge

Private Game Lodge in the Heart of Welgevonden Game Reserve

Our Fifty Seven Waterberg private game lodge takes luxury accommodation to the next level. Located in the Waterberg Biosphere Reserve, this gorgeous reserve is home to the famous Big Five and 50 other mammal species. If you are passionate about the great outdoors and prefer to holiday in style, it is time to visit our private game lodge and enjoy the finer things in life. Our lodge can accommodate 20 guests in our 10 privately located suites and is thus the perfect place to recharge your batteries and enjoy the peace that nature offers. If you want to escape the chaos of the city and bask in the beauty of the bush, Fifty Seven Waterberg is the place for you.

Welgevonden Game Reserve utilises ground-breaking anti-poaching technology and is thus at the fore of protecting endangered species. A specialised tracking system that uses Internet of Things (IoT) technology is attached to prey animals, such as Zebras (who graze near to rhinos), and when they sense a threat, a message is sent to a data capturing system via their tracking collars. Visiting the park is thus a must for anyone with a passion for animal conservation, and Welgevonden is the first of its kind to use this technology. Whether you are eager to spot the Big Five, learn about innovative anti-poaching systems, or check out the 300 plus species of bird, there is something for everyone at this awe-inspiring reserve.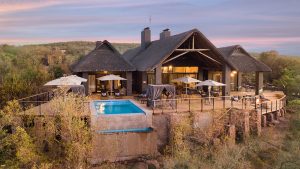 There is also a lot to do for those with a penchant for history or astronomy. You can explore the ancient Bushman paintings in the reserve with one of the knowledgeable tour guides, or opt for a star-gazing experience. Thanks to the lack of light pollution, you are bound to see both the Milky Way and the Southern Cross. Suited for singles or families alike, this is the trip of a lifetime and will certainly not disappoint.
What to Expect From Your Private Game Lodge Stay
Our private game lodge boasts tranquillity, luxury, and peace. If you are into luxury furnishings, comfortable amenities, beautiful surroundings, and spacious dwelling spaces, our lodge is the pick for you. Each room has a private patio area for added privacy, and each one boasts a brilliant view of the reserve. When you are not adventuring through the bush or enjoying your private patio, you can cool down in the crystal pool, sunbathe on the deck, or enjoy a cocktail at the bar. We also pride ourselves on the fine dining experience we offer guests, and our restaurant is sure to inspire anyone with a passion for culinary delights.
If you are in the Johannesburg or Pretoria vicinity, our private lodge is only a 3-hour drive away from you. Fifty Seven Waterberg thus makes for a perfect weekend escape for city dwellers and is excellent for anyone who wants to recharge in comfort and style. Contact us today to book one of our luxury suites and enjoy the magic of the Limpopo Province. We bring elegance, affordability, and tranquillity to the mix and cannot wait to be a part of your safari adventure.